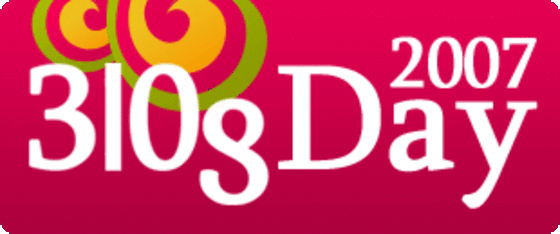 THANKS TO BARBARA WHO RECOMMEND MY BLOG FOR THE WORD BLOG DAY 2007 . I DISCOVERED THIS NEW BLOG'S ACTIVITY SO IT IS MY TURN ON THIS SPECIAL DAY TO RECOMMEND YOU 5 BLOGS .
THIS IS PRETTY HARD AS I LOVE A LOT OF THEM BUT THE PURPOSE OF THIS DAY IS TO LET DISCOVERED BLOGS FROM OTHERS AREAS , OTHERS TASTES ...TO SUM UP DIFFERENT
HERE ARE MY 5 BLOGS I RECOMMEND
Carraol , images of Mexico City because I love Mexico and his pictures are wonderful
Frida and her notebook , who let us share her passion of human rights of Afghanistan . To sum up her passion of life
Photos above courtesy of Frida
My Melange , I don't remember how I found Robin's blog . But I like it because it was an american woman who shares her love of Europe . I left a comment and we both realized that World was very small , indeed she is living few miles away of the place where I was an aupair in the States : it is Rhinebeck . We hope to meet soon
Palazzo Pizzo , a blog which let us discover south of Italy , Suzie is renovating and decorating her italian home . From her italian blog , you can go to her chinese blog . She is a traveler .
Rekindled spirit , It is the fabulous blog of Elsa , a citizen of the World , as she says she carries erytrean blood , she is an american by right and German by association ( with her husband)
I'm going to cheat a litlle bit because I haven't recommend my loved blogs and friends and I'm sure I will forget some but they will forgive me ( pleasssssse) and I have to mention it here . First my american provencal friend Corey ,my friendly Constance and her merveilleuses creations , La fabuleuse Fifi , The moroccan Maryam , The Queen Donna , Lea , Merisi from Vienna and the last but not least Farfallina from Roma , each comment on her blog gives $0,05 to doctors without borders , we have to go and say Ciao
I'm sorry I can not write every single blog I love ...but I have you in my spirit ( and above all in my computer