I'm going to tell you a great story, we will call it " from a provencal attic to a New York museum
The story is about a painting found in a provencal attic ( in Aubagne ) and which is going to a New York Museum.
2 months ago in the the attic's dust I've seen a "king portrait" with a gilded frame .
I felt in love with this painting . I've bought everyting in the attic and of course this portrait . In the back it was written " portrait of Scanderberg in the XVth century"
I've sold it thanks to internet to an albanian patron , let's him called DD.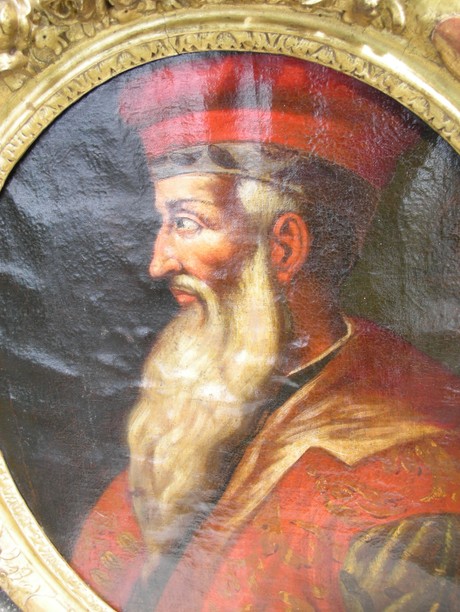 DD told me :
"

the interest ( of this painting )lies in the historical and cultural value that it represents .Albania paid a heavy price after Scanderberg died ,a great deal left their homes and settled in Greece , south of Italy ,Sicily Calabria where even today the old Albanian language and costums still thrives .
Scanderberg paved the way for the Albanian Nation as one ,time has been revilling that Scanderberg was not only a Great Warrior but a Statesmen , a great leader , a man that gave his all for contry and nation , a man that never forgot his roots although he was taken away hostage by the Sultan and converted to islam , he was among other Albanian at heart .thats where the true value lies on the man itself !"
Its very fitting to a great Leader as Scanderberg who for 25 years stopped one of the most formidable Empires of all time the Ottoman Empire ,therefore delaying the Ottoman dream of conquering Europe ."
for many years, DD has helped collecting Albanian related printed matter ,books ,engravings ,paintings ,artifacts ,some books as old as 1400's and so on ,the backbone of this collection is material with prime subject Scanderberg ,the Albanian King and National Hero .
"As I mention above the collection is growing steady ,the ultimate purpose of all this or our near future dream is to make this collection the stepping stone for a innovative Albanian Museum/Institute of research and publication .We are working very hard to make this work ! " said DD
I'm glad to have helped a little bit to grow this collection .
For me the most important thing is to sell my antiques to poeple who is going to take care , to appreciate and to cherish them , so there where will be still here in thousands of years.
Now I hope my treasure will have a good trip to NYC